We are a diverse company that handles more than just eyeglass frames. We have been a family-owned and operated business since day one, over 20 years ago. Visual Eyes is excited to introduce the hardworking team behind our brand on See VE. Here you'll find the latest product information, happenings around the office, and learn more about our favorite causes, all bundled in monthly posts. If something resonates with you, we encourage you to leave us a comment. We'd love to get discussions going! If you'd prefer to reach out directly, you can always email contact@veeyewear.com.
Throughout this time, our staff has remained fully employed and we'd like to highlight them for the hard (socially distant) work they've done to ensure you and your customers receive your frames.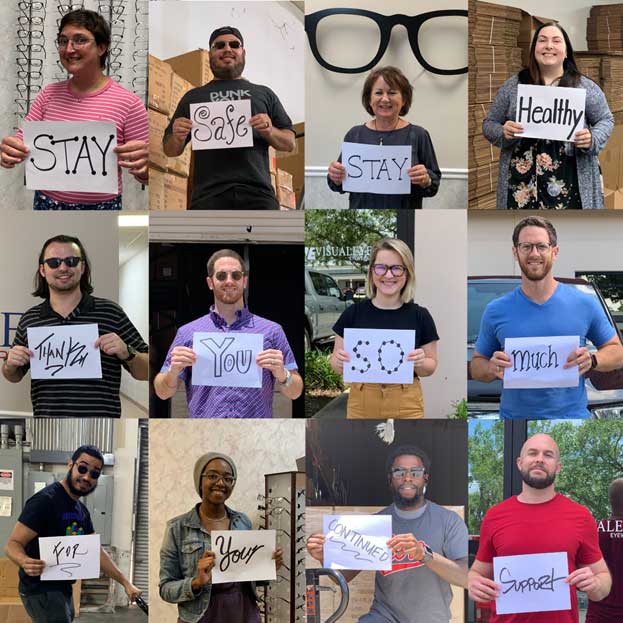 Pictured (L to R): Sarah, Moose, Kelly, Rebecca, Trent, Michael, Courtney, Adam, Alex, Zav, Wandari, and Wills.
Sarah and Zav are integral to our customer service team. If you've given us a call, chances are you've spoken with one of these hardworking team members. Our warehouse team includes Moose, Alex, Wandari, and Wills. Every day they are the ones picking your orders and ensuring that your frames are shipped out on time. They had the most fun coordinating this photo collage! Adam and Kelly comprise our inventory team and have been hard at work ensuring our warehouse stays current. Michael and Trent make sure you and your customers are outfitted in the latest, on-trend VE styles. Lastly, Courtney. I run our social media here at Visual Eyes. I'll be the main author of these blog posts, along with the content you see on our website and social media. I love finding creative ways to showcase our people and products and am excited to interact with you on our blog.
Everyone at VE plays a crucial role in our day to day operations and there are even more team members we're excited to highlight soon. We hope that you enjoy the behind the scenes look at our company and look forward to all of the posts to come.
Until next time, thank you from our family to yours.